Help Build Casey's Yard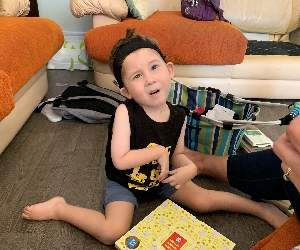 Casey is a beautiful little 5-year-old boy who has RTD [Riboflaven Transporter Deficiency Type 2].
For Casey, his condition includes paralysis of the cranial nerves and sensorineural deafness, the later, being addressed with a cochlear implant in the hope that by hearing, he will eventually learn to talk. He also has severe damage to other nerves, particularly his limbs which are heavily distorted. Amazingly he moves around by shuffling his backside.
There is hope that one day he may walk but that will be a fair way down the track. He also lacks the ability to regulate his body temperature. Casey needs a suitable backyard to play in, so Todd & Sami along with The Board Meeting Surf Charity, and the team from iLandscape, are giving Casey's Yard a mini-makeover!
But, we need the support of the Sunshine Coast Community in helping pay for or donate items like the new covered outdoor area, patio, landscape supplies, garden edging, machine hire, playground etc.