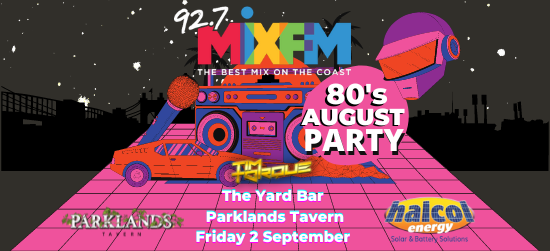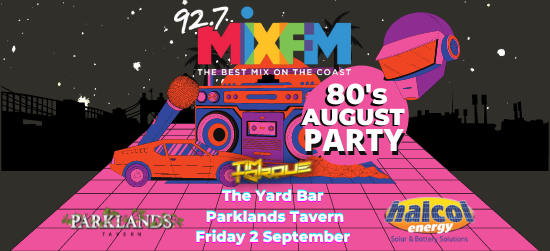 80's August Party
Every day in August, 92.7 MIX FM will be showcasing the very best of the 80's with hits like "Makin Your Mind Up" by Buck Fizz or "Gotta Pull Myself Together" by the Nolans.
We'll be winding the clock back to an era of some of the greatest hits of all time and culminating if the biggest 80's party on the Sunshine Coast.
To celebrate, we'll holding our annual 80's August Party – the party of the year!
It's all happening at Parklands Tavern on Friday 2nd September!
Parklands Tavern will be providing their famous nibbles, your first two drinks and all the crimped hair and fluro vibes for your 80's experience!
Mark & Caroline, Lyndon and Todd & Sami will be giving away tickets on air all month.
Tune into 92.7 MIX FM to get your 80's music fix and you might just jag yourself some tickets to the best night of your life!
Peace out.