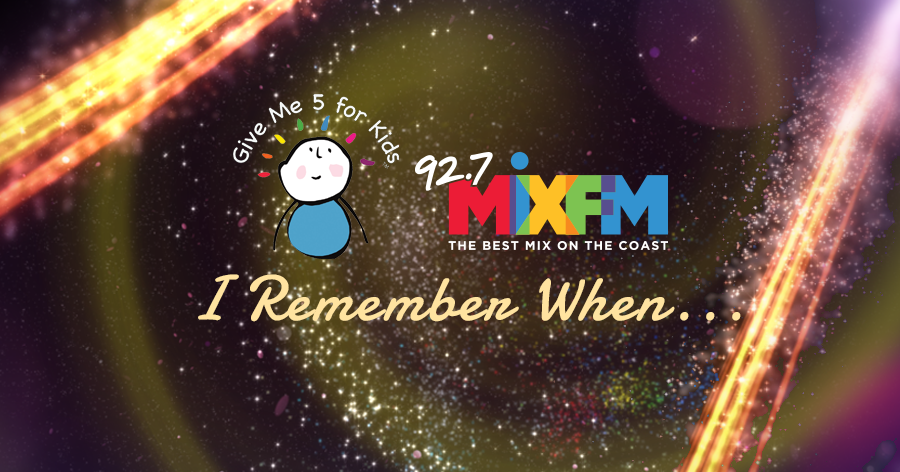 Give Me 5 for Kids – I Remember when…
This June, the Sunshine Coast celebrates 21 years of 92.7 MIX FM's Give Me 5 for Kids, but this year is different, so take a break and reflect on a job well done.
For 21 years you've been helping Sunshine Coast kids in need of care. From Wishlist and 92.7 MIX FM … thank you.
92.7 MIX FM will be showcasing pieces from people who have been associated with their Give Me 5 for Kids campaign over the last 21 years – from staff, volunteers, businesses, children, parents and more!
If you would still like to donate to 92.7 MIX FM's Give Me 5 For Kids, Wishlist are still raising money for the following and would be so appreciative of your support.
Paediatric Critical Care Unit Family Room refurbishment which will have one bedroom, a bathroom, kitchenette and a fold-out sofa bed to help families stay together in times of medical crisis = $200,000
Diabetes Equipment to assist children at the Sunshine Coast University Hospital and Gympie – includes Blood Glucose Monitoring Equipment for loan to families and funding children to attend Diabetes Camps and other events = $10,300
Child Healthy Lifestyle Group Programs – an early intervention programme targeting "at risk" families with links to child obesity and long term health implications for children and their families = $1,999.75
DVDs and iPads for children to use as distractive therapy during long stays in hospital.
Ongoing funding for Clown Doctors to bring laughter to sick children at the Sunshine Coast University Hospital = $110,800 per annum.
Ongoing funding for Yoga Therapy for the Children's Ward = $13,000 per annum.
Colouring Packs used as a 'boredom buster' for kids in hospitals across the Sunshine Coast