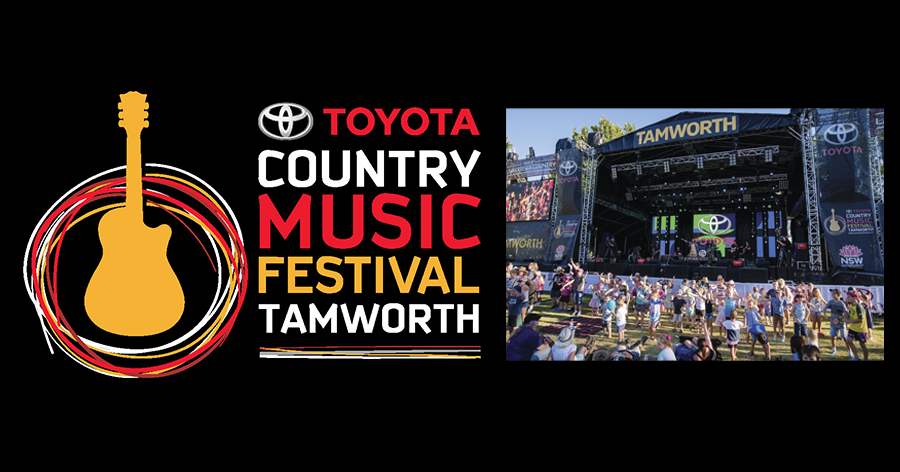 Tick the Toyota Country Music Festival, Tamworth off your summer holidays bucket list this January!
When the music starts playing and the stage lights up the park, becoming the ultimate outdoor concert venue; when the streets are lined with performers and the venues are opening their doors for extended hours; and when the biggest country music artists are gathering from all over the country, you can only be at one place – The Toyota Country Music Festival, Tamworth.
Centrally located and dubbed as one of Australia's most authentic music experiences, the Toyota Country Music Festival annually transforms Tamworth into a summer hot spot for travellers, families, music enthusiasts and many country music artists.
Toyota Country Music Festival, Manager, Barry Harley says, "Travellers and music-lovers visiting Tamworth in January have a unique opportunity to experience the biggest music festival in Australia featuring an authentic line up of all-round entertainment – there's something for everyone to do and see!"
The 48th TCMF will take over Tamworth from Friday 17 to Sunday 26 January 2020. The likes of Kasey Chambers, The Wolfe Brothers, Troy Cassar-Daley, The McClymonts, Lee Kernaghan, John Williamson, Paul Kelly, Cold Chisel and many more are in the line-up of stars you can expect to see wandering around town enjoying the festival themselves or live in concert at one of the many venues.
But it's not just the star-studded artists that make TCMF a great time. It's the family-friendly and affordable nature of the Toyota Country Music Festival that makes it easy for everyone to just wander down Peel Street and enjoy the buzz of the vibrant and diverse buskers, street performers, food traders and surprise guest appearances.
It's also the grand outdoor concerts with an extraordinary line up of artists and free performances that are held for 10 nights straight in Toyota Park. With entertainment for the kids on offer too, what better way to end your day than to roll out the picnic rug in the park as the sun goes down while you soak up the atmosphere with live music? With a new line up each evening, Toyota Park 2020 is new and exciting every time you go.
If you're looking for accommodation, TCMF has got you covered with some great and cost-efficient options on offer. These include the specialised and central Riverside Camping grounds, located next the Peel River and just a few minutes' walk from all the festival action, or the unique and no-fuss Wallaroo pre-pitched sites. Both sites are safe, secure and conveniently situated to ensure you don't miss a beat of the festival – even while you sleep!
So if you're getting inspired to buckle up and head to Tamworth this summer, we need to let you in on the must-knows and dos for when you get there.
There's lots to add to your agenda over the 10 days of TCMF, after all, it is Australia's biggest country music event. You must attend one of the 10 star-studded free concerts in Toyota Park, swing out to the famous Big Golden Guitar for a selfie, wander through the buskers and street performances or hit FanZone for an up close and personal show with your favourite artists.
If the kids are in tow, head down to Family Zone for the rides, food and entertainment; or if it's a party you're looking for, it's lucky that Tamworth is home to the biggest variety of pubs and clubs who welcome you to have a good time well into the night.
It's hot and it's happening!
It's Tamworth in January which means yes, it's hot. But it's also all happening – in the venues, down the streets, in the park and across the entire region. Grab yourself a Toyota cowboy hat, pull up stumps under one of the many shady trees around town or step inside the venues where you'll find a nice cold drink, accompanied by air-con and many festival patrons.
There's so much to do, see, hear, taste and experience and we don't want you to miss a second of it. Grab yourself an Official Guide or for the tech-savvy, download the TCMF App or follow TCMF_Offical on insta and be sure to plan who or what you want to see, when and where.
We're talking big country music stars, big stages with big crowds and we can guarantee that you will make the biggest memories while enjoying the biggest festival with the biggest atmosphere yet!
So, we hope you're planned, packed and ready to go when January comes around, because the Toyota Country Music Festival, Tamworth sure is one to tick off the bucket list!
Fore more info please visit ww.tcmf.com.au