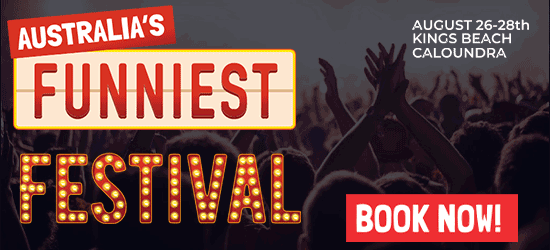 Australia's Funniest Day out
The "That's Not My Dog!", The Festival is Australia's funniest day out with joke and storytelling like never before seen on the Sunshine Coast!
It's 3 days of unparalleled laughter, fun and entertainment complimented with some of Australia's best musos and bands and exquisite Local and National beer, wine and food. Based on the 2010 movie of the same name -That's Not My Dog –The Festival (TNMDF) will be hosted by Aussie entertainment legend Shane Jacobson, across three days of a fun-filled, action-packed live festival experience.
The event will take place from 26th to 28th August at the Kings Beach Amphitheatre!
The Comedian Line Up includes Shane Jacobson, Fiona O'Loughlin, Pete Helliar, Michala Banas, Dave O'Neill, Marty Fields and more, while the music line up includes Ross Wilson & The Peaceniks, Killing Heidi and Joe Camilleri & The Black Sorrows.
More info on the event can be found here: https://www.thatsnotmydogfestival.com.au/ or here: https://www.facebook.com/thatsnotmydogfestival
For your chance to WIN a Double Pass to the Festival, tune in to Todd & Sami's Dad's Jokes every week!
Sponsored by 92.7 MIX FM!