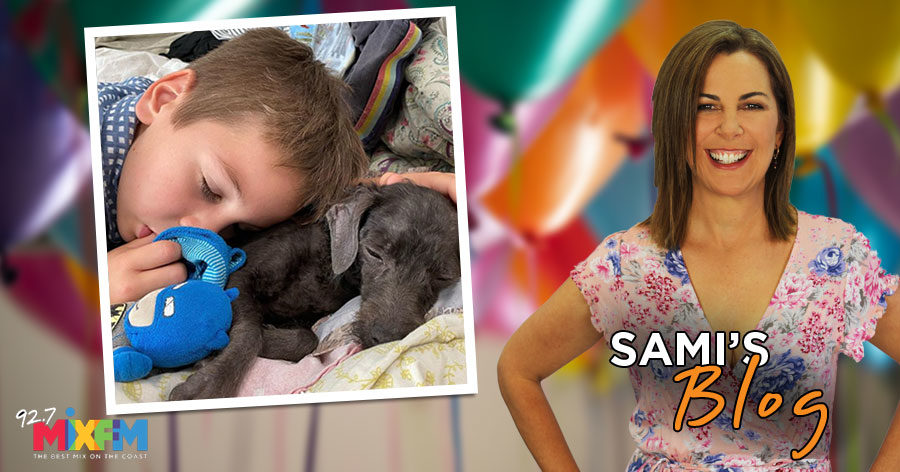 Happy Birthday Augie
My youngest baby turns seven this week. Yes, I still call him my baby, and tell him daily he will always be my baby even when he himself is a father to children.
I am always emotional around their birthdays and your youngest child makes you realise it is the very lasts of all the firsts for that age. I can hear time ticking away ever so loudly in my ear. I want to keep him little and with me forever. The day my youngest started school nearly killed me. I still hope a stalk will bring me twins and leave them on my doorstep one day, as I love when my children are toddlers and home with me. So many of my friends are happy when their babes go to school but that has never been me. I like them around my feet, in their pyjamas, tugging needily on my pants.
My son, August, was born on the Horse's Birthday, August 1st (that was not a coincidence – thank you Dr George) and has been pure sunshine to our family. Loud. Cheeky. Obsessed with toy cars and Batman. Augs has big brown eyes and eye lashes that really should have gone to his sister. He is also really kind to his siblings and friends. His big sister cried for two days when he was born because she wanted a sister so badly. His big brother wasn't old enough to realise he had just been handed a play mate for life. And I must admit I really wanted another girl so I could have tea parties for three and twirl about in a tonne of tutus and tiaras. Sexist, but all true I am afraid.
But the years teach us what the days never knew and rarely a day goes by I do not thank the moon and stars that our last baby was a boy. To see brothers play together is a gift money could never buy. This boy pack has admittedly brought things to my life I never even knew existed such as peeing competitions and jousting sessions with sticks and incessant talk about footy scores and superheroes. But boys are so beautiful and straight up. They need to be fed and that is about it. They certainly do not need to be clothed as my two boys love being nude. They do not seem to need my constant hugs either and both take delight in wiping away my kisses as they laugh with cheekiness.
And being the third child, Augie has pretty much raised himself. Don't start hating on me as we have our challenges with our other kids and perhaps that's why my third one really was a charm. Yes, he has me wrapped around his perfect seven year old finger! Last year he slept on the hard and cold floor in the hallway near the top of the stairs because he wanted to "get a head start on his birthday". I cannot wait to discover what delights he throws at us this year.
Happy birthday my ray of sunshine, Augie.
Other Competitions