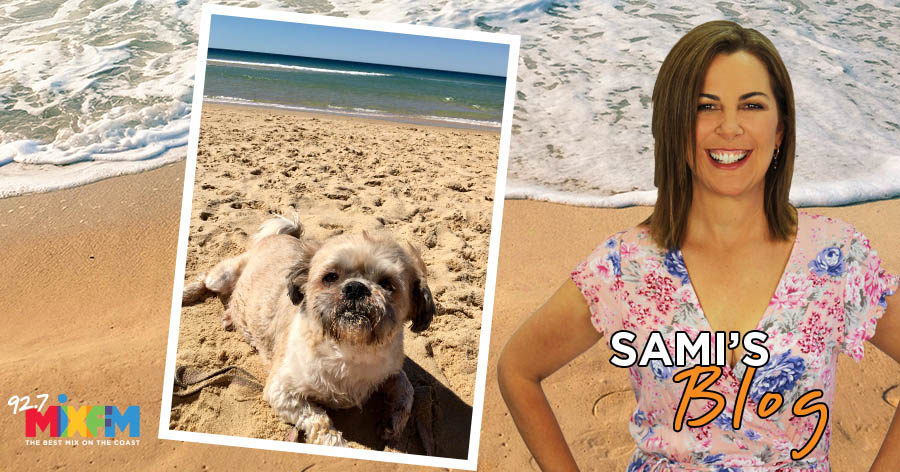 Dog Heaven on our Doorstep
I have just come back from the beach at Buddina where the water is ridiculously clear and the horizon consists of bands of gorgeous greens that morph into beautiful blues. Spring is about to unleash and bring with it long lazy days at the beach with my family and my other favourite thing in life: my dogs.
It is the same stretch of beach on the Coast I grew up on and as a child our dogs would watch from the shore as my brother and sister and I would learn to boogie board in the killer crashing waves wearing our crochet bikinis as the water tower looked over us all and made us feel pretty insignificant.  We would all giggle at the older topless sunbakers who were labelled such rebels. Nowadays the ladies wear much skimpier g-strings, but other than that not much has changed on this peaceful stretch of paradise.
I think 40 years ago there were more shells on the beach and I am pretty sure no one rubs coconut oil into their skin to sunbake anymore (!) but other than that I am always aware it is the same platform of coffee rocks my kids are exploring that I walked bare foot on as a child.  There is something very soothing in this for me.
A portion of the coastline is off- leash for dogs meaning they can run free and I often think the dogs who are walked here are the luckiest  and most loved dogs in the entire world.  Nothing much in this world makes me as happy as the sight of a dog bounding through soft sand running to sniff other dogs or dig a big hole or just lie on their back and roll with gusto in the wet granules.  If you are feeling down or bored or lonely,  trust me and go for a walk around beach access 210 at Buddina and you will soon be smiling from ear to ear watching the antics of the dogs who seem drunk on adrenalin and salt air.
Some people throw shiny  balls for their loved pets to chase while others use rackets to belt balls into the air for their dogs to retrieve. There are dogs of all sizes and shapes and no one here asks what you do for a living or even what your name is.  Nope. Do not dare ask anyone where they live or what they think about world peace.  It is all about your dog.  Questions are limited to your dog's breed and at a stretch your dog's name.
My eldest dog just turned 14 and Louis thinks this stretch of beach is his backyard which is no wonder as we have walked there nearly every day for that entire time.  We have also flocked there to celebrate countless birthdays and New Year's Eves and Sunday mornings.  My husband even proposed there with my Louis the shitsu by my side.  My little soul mate (the dog, not my husband!) ate a huge fishing hook once from a fisherman's bucket and $3K later he survived surgery in a Brisbane vet clinic to wag his tail again.
I know not everyone loves dogs but I believe with all my heart it is a special piece of our unique lifestyle to be able to see a dog run freely on the beach.  I am totally biased on this topic because dogs are pure sunshine to me. Sunshine Coast Council is about to update the Domestic Animal Management (cats and dogs) Strategy for the next 10 years and is seeking feedback from all of us as to what we love or do not love and what we want to stay in relation to our animals living harmoniously with humans. If you would like to fill out the survey please go to this link and look for the Domestic Animal Management heading that will take you to survey that takes 60 seconds to do. Be quick as it closes at the end of the month.
I pray common sense will prevail and this strip of dog heaven will remain as it is for my children's children to run free with their four-legged best friends on the beach too.
Other Competitions