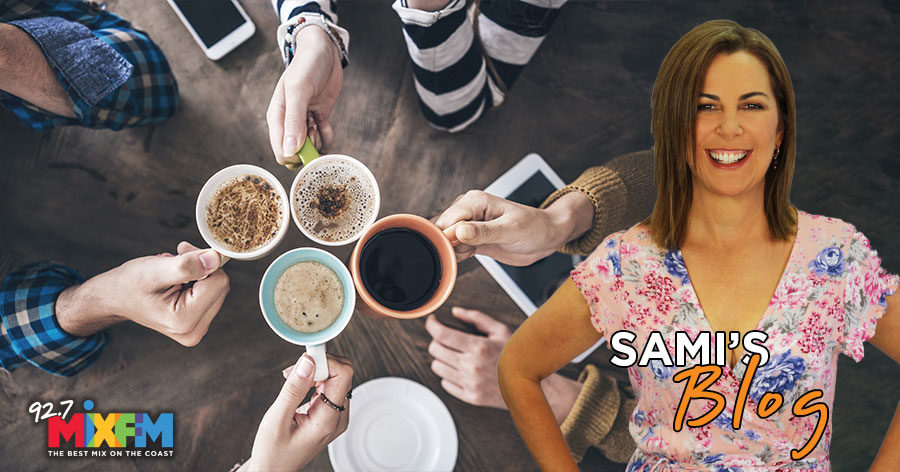 I had coffee in an actual café with real-life adults.
I had coffee in an actual café with real-life adults. If I had written that sizzling opening line in 2019, I would have justifiably been fired by the fine people at this magazine! But nowadays, perhaps you can relate it is a big deal!  The three of us did not sit quietly and speak softly while we inhaled our caffeine.  I fear we were more like cackling witches in a coven as we roared laughing for an hour and swapped our own little horror stories of coronavirus.
We ate cake that we didn't have to cook or serve, and we just inhaled the goodness of life.  It was bliss to be able to touch my friends. It was strange to put on make- up. It was lovely to have something to look forward to after dropping the kids back at school. It felt so very good ordering real coffee. And it totally filled my bucket to debrief on all that has gone on within the last few months. I need to urge you all to do it immediately if only to unpack all the emotions of 2020.
The power of a good friendship is a gift isn't it? I learnt so many things drinking my coffee.  I found out everyone felt afraid around Easter because of Coronavirus.  I listened as my friends told me how home schooling nearly broke them some days.  Other days they loved it.  I heard stories of other friend's friend's and their marital fights, their financial struggles, their health changes. The words were flying around the café so quickly and it was all music to my ears.
I visited India 20 years ago and went to the Slums.  The poverty upset me to the point I could not sleep for months.  But in that depressing neighbourhood, the men would court their potential wives with the gift of conversation.  They would sit around the fire pits at night and seduce the women with tales of their days.  They could not afford flowers or dinner dates so the art of story telling was their gift to their ladies.  And that is how I felt having coffee at Buderim.
We swapped recommendations on great TV shows (Binge is a new service you can sign up for a 2 week trial for free), good books (Phosphorescence by Julia Baird) and fabulous recipes (add brown sugar on top of your muffins before baking to give them extra crunch).  I found out where the best comfortable pants are for sale on the Coast (it is Lululemon according to my stylish friend).  We swapped tales of how we had bumbled by and we had all struggled at some stage with swinging feelings ranging with problems from how the hell to cut our kid's hair/what to find for a snack for the 5th time that day/could we actually run away to Nimbin and home school for the rest of our lives/would we murder our husbands/our husbands are the best men in the world.   It was good to hear all this raw and honest chat as one can go down that rabbit hold of social media and think everyone's life is perfect.
I love a friend even more when they are vulnerable.  But the funniest stories from my mum friends came from kids and other families.  I heard of the 14- year old son whose family lives interstate:  he took a photo of himself and then somehow froze it on his computer screen, so the teacher thought he was sitting there for the class zoom session.
The kid was fishing instead of learning about World War 2. Genius! Then I heard the story of a 7- year who started to do a stilted robot dance with her arms in the teacher zoom session and said with a broken voice: "We have bad internet today as there are really strong winds."  And then simply hit 'leave meeting' and logged out for the day and played cricket in the back yard. Maybe my kid sitting with pyjamas on her bottom half and day dreaming was not so bad after all!
So please spend that $5 this week and catch up with your friends, as it is the cheapest hit of therapy you will ever find. You're welcome.
Sami xx
Other Competitions