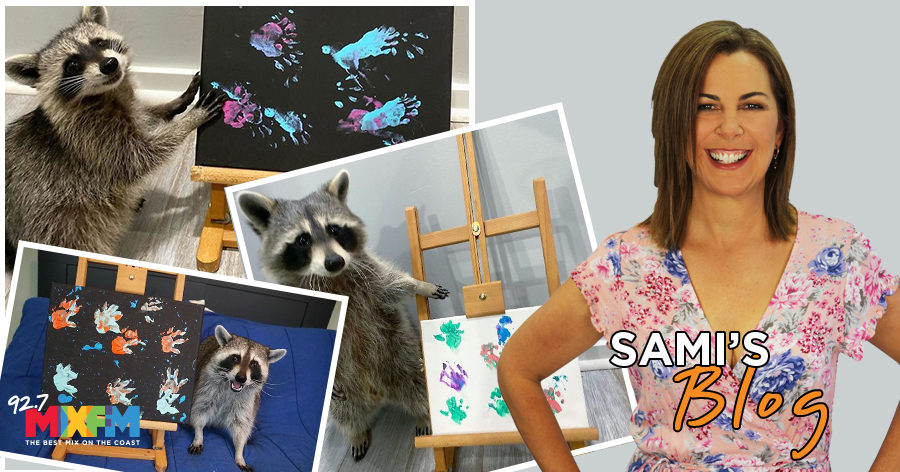 Renaissance Raccoons and Foxy Crocs
How are you holding up with the waves getting a little choppy again in the Covid current? I figure we all need some laughs and I stumbled across two animal stories this week that had me smiling from ear to ear.  May they bring you the same joy.
The first story is a true tale about a nursery of racoons that paint masterpieces in the form of oil canvasses.  Yes!  Racoons! I have always had a bit of a soft spot for these cute little animals because they are born with a batman mask and whiskers on their pointy little faces. When God was handing out the cute genes he doubled down on the racoon.  As opposed to the cane toad that is just about the ugliest little guy in the animal world.
Racoons have that look of mischief permanently placed on their naughty little faces. It reminds me of that guy Todd who I work with on the radio.  So, these renaissance raccoons that were rescued from certain death in the wild after being injured by humans, scamper through paint and then trot over a canvass to create some pretty cool canvasses.  The bandits are named Piper, Tito and Chetto.  Even their names sound like they could join Brad Pitt and George Clooney and pull off a heist of the Bellagio hotel in Vegas.  Anyway, these little critters apparently are very smart and indeed love to create their artwork of their paw prints that sell before the pain is even set.
And from the Vincent Van Goghs of the animal world we travel to Germany where the tale of a fox in crocs sounds like a Dr Seuss book. This little fox has a serious shoe fetish and has been unmasked as the mystery thief of more than 100 shoes in the small western town of Foehren.
A forest worker stumbled upon shoes strewn near the fox's den and found a trove of footwear down the hole which had been nicked from the outside of front doors. "There was everything from ladies' shoes to trainers and lots of Crocs," said a local police spokesperson.
Smart fox.  We all know that crocs are more divisive than the topics of politics and religion combined.  You are a croc fan, or you hate them with all of your heart, and I understand there is no middle ground.  The only thing more divisive is someone wearing crocs with socks.  Personally, I like my crocs because they suit my beach lifestyle and my lazy ways, but many friends have threatened to disown me if I wear the fashion flop around them.
But the foxy little Imelda Marcos was let go with a warning and the shoes were returned to their human owners. All those croc shoe owners are no doubt celebrating the return of their plastic clogs. The Croc company has enjoyed increased sales during Corona as it's believed more people are wearing them at home.
And our little German fox culprit is clearly not a brand snob as if he was, surely, he would have only stolen an even less attractive shoe: the Birkenstock.
Other Competitions