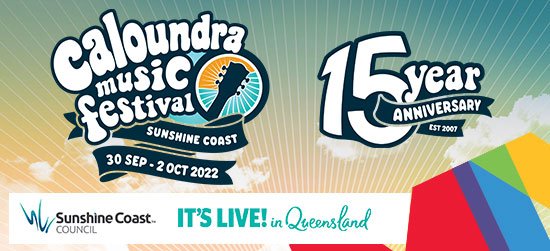 15 year anniversary
The Caloundra Music Festival (CMF) proudly returns for its 15th year delivering one of Australia's most unique and loved all ages music festival in its traditional long weekend slot of Friday, September 30 to Sunday, October 02, 2022.
Three Stages within the King's Beach amphitheatre
3 days
10 hours of live performances a day
Showcasing 70 plus artists across the festival.
All ages – family friendly
The Kings Club VIP Experience
presents the ultimate CMF experience with sheltered viewing decks providing VIP views of the main stages, lounge areas, private bars and exclusive Kings Club toilet facilities.
The Funky Forest
a colourful and exciting space for children and their families within the safety of the festival grounds
activities range from craft workshops, face painting, yoga, dance and drumming.
First Announce Artists include (in alphabetical order):
Art vs Science – Baker Boy – Ben Lee – Client Liaison – Coterie – Felivand – Missy Higgins – The Presets – The Regime – The Rolling Stones Revue feat. Adalita, Sarah McCleod & Tim Rogers – Skunkhour – Vaudeville Smash – The Waifs
Tickets on sale from 9am Friday May 20 – visit www.caloundramusicfestival.com for ticketing information and to secure your All-In 3 day pass or day pass today!
Second Artist Announcement
Adam-James – Alys Ffion – Andy V – Asher Beau – Aspy Jones – August River Band – Bearfoot – Bobby Longstaff – Burger Joint – Caitlyn Shadbolt & Melanie Dyer – Darcy Kate – DÉ SAINT. – Dorah Jacson – Drop Legs – East Coast Alien – Felicity Lawless – Flag Duty – Fools – Frank and Louis – Hallie – Harry James Angus – Hayden Hack – Hellhound Brown – Hope D – Horns of Leroy feat. Thando – Hot Potato Band – In2natioN – Jason Daniels – JaZZella – JC and the Tree – Katie Who – Lachy Doley and The Horns of Conviction – Lucy Gallant – Mason Hope and The Teachers – Mayah – Monique Clare – Nanas Pie – Pat Tierney – Ruby Jo – Skillz FJ – SoLar – Sugarbag Blonde – Sunny Coast Rude Boys – T H U M P – The Black Seeds – The Fins – The Holy Rollercoasters – The Moonsets – The Moving Stills – The Strides – Those Folk – Transvaal Diamond Syndicate – Ukulele Death Squad
Proudly brought to you by Sunshine Coast Council.