Lyndon was born to be on the radio
In fact he was so fascinated with it that when he was given a transistor radio at the age of 3 or 4, he'd go to the point of finding a spot to hide behind a kitchen bench or cupboard to 'pretend' he was talking on the radio.
Those days are long behind him now but the passion for 'the wireless' remains – along with a love of travel to amazing places, meeting inspirational people, eating beautiful food and still enjoying great music, particularly anything from the 80's.
And don't worry. Lyndon's not hiding behind cupboards anymore!
---
Six things you didn't know about Lyndon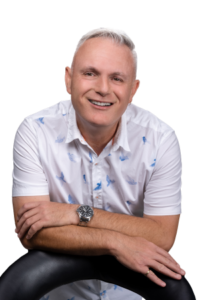 BEST CONCERT EXPERIENCE

Look I'm really fussy when it comes to seeing live music… I only really like seeing artists that I'm passionate about… John Legend, Jamie Cullum & Sarah McLachlan.

THE ONE MOMENT I'LL NEVER FORGET

I will always cherish the day when I was privileged enough to meet my sponsored child in Sri Lanka, although there was a language barrier, it was an overwhelming moment when you make that connection.

WHAT I DO WHEN IM NOT LISTENING TO MUSIC?

Admittedly music is my life… where would we be without it? Possibly enjoying a fish curry somewhere with a glass or two of Sav Blanc… with friends of course… haha!
THREE PEOPLE I WOULD LIKE TO INVITE TO DINNER?

Nelson Mandela, Tim Costello CEO World Vision Australia, Jamie Durie.

FORD OR HOLDEN?

Sorry guys I'm with VW on this one… but why am I gonna need the heated seats and side mirrors here on the Sunshine Coast…? lol

THE ONE THING ON MY BUCKET LIST?

Having been fortunate enough to have travelled several times to South East Asia, I love the food, culture, and lifestyle, yet to travel anywhere in Africa… but I would like to have the opportunity and time to perhaps travel and do some volunteer work in a developing country.

Got a question? Contact the station.